One month and fourteen days. That's how long I've been on board as a MentorMatey (as I call it). There have been a few new hires in the Minneapolis office since my arrival – eight to be exact – providing actual reasoning for my self-declared promotion from New Guy to Guy. My co-workers seem to enjoy my presence, having gotten past the initial "Who is this chap? Is he cool? Why did he punch the coffee maker? And why are his shirts so bold?!" phase that we all go through. With each passing day, I become further entwined in the MentorMate culture. Our wildly enjoyable atmosphere, which I hereby dub, "MentorLand", has made it easy to view my work space as an area of merriment.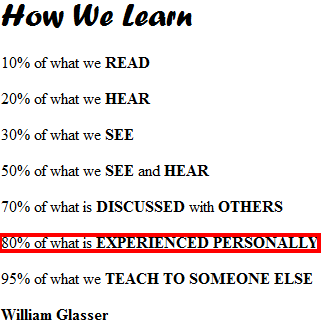 One thing I enjoy about being new to an environment is the vast extent of attainable knowledge at my fingertips. As I indicated in my earlier post, I am fortunate to be surrounded by crafty, technically sound masterminds. Their brains are mine for the picking. I have learned more about SEO, web development and design, and copy-writing in the past month than I thought possible. Like anyone trying to absorb new concepts, hands-on experience is one of the best ways to learn according to William Glasser and these guys.
Backstreet's (Not) Back, Alright!
I was given the seemingly straightforward task of updating our website's copy a few weeks ago. I welcomed the challenge with open arms. My goal was to start with our home page, where I would compose enticing headers followed by mind-blowing copy. No more than five minutes into my new project and I had written the following headline: This Is How We Do It. Any human being that lived their formative years during the 90's will recognize these words as a song made famous by The Backstreet Boys. This planted an idea seed in my head. Could I sculpt all headers in Backstreet Boys fashion? One of the essentials of copy-writing is to attract readers with captivating headlines. I rolled up my sleeves and began experimenting. In a matter of seconds, "We've Got It Goin On", "I Want It That Way", and "No One Else Comes Close" joined the header mess, making 'N Sync and 98 Degrees instantly jealous. I informed my boss, Andy, that the rough draft of new copy was ready for his viewing pleasure, then promptly hid to avoid seeing his face melt into certain disappointment.
"….what the?! Backstreet Boys? Really?"
I emerged from hiding and attempted to justify my cause. Somehow, my reasoning struck a chord with Andy and he agreed to let me roam free, "as long as you are able to continue the theme across the entire site". Hmm. I think Andy knew I wasn't prepared to devote the entire site of a respected software development company to teenage pop songs. Perhaps I had gotten the cart slightly ahead of the horse. I thought long and hard about how I could make this seemingly insurmountable feat into a reality. I shared my ideas with my nearby cubemates, hoping to garner their input.
"…what the?! Backstreet Boys? Really?"
You know the popular saying, "Don't ever let someone tell you that you can't do something"? Occasionally, and perhaps rarely, that advice is trumped by another saying – "Choose your battles wisely". Three hours and a few cups of caffeine-riddled coffee later, and I had surrendered. Trying to pair "Shape Of My Heart" and "Helpless When She Smiles" with assorted examples of professional software and technology methodologies proved to be a superhuman task. I had chosen my battle by not choosing to battle. Weird ideas are fun, but boy band songs have a time and place. And that time passed over a decade ago. Catastrophe averted.
Speaking of superhuman tasks, The Marketing Team has decided to update the look and feel of MentorMate.com in the coming months so stay tuned. And yes, they're allowing me to write the copy. Ideas and suggestions? Send them to me at ryan.fortune@mentormate.com.
From Sports To…Other Sports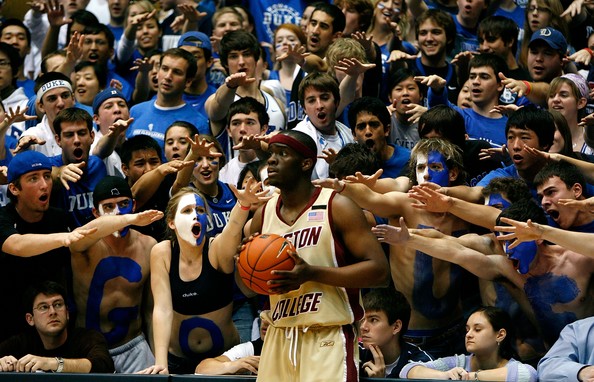 The comforting fans
of Cameron Indoor Stadium
One of the greatest aspects of working at MentorMate is the people I get to interact with on a daily basis. To me, an environment is only as comfortable and rewarding as you make it, unless that environment happens to be at Cameron Indoor Stadium as an opposing player. While this sort of reference would have totally hit home at my previous job, I am confident in saying I would hear confused silence from most in MentorLand. Being the savvy observer that I am, I picked up on this culture swing early and made a few adjustments. I have brushed up on my Star Wars jokes, familiarized myself with a few Diablo 3 characters, and, most notably, started playing Chess Time (a head-to-head chess-playing app) on my smartphone with about four co-workers. My chess experience and ability is limited at best, but as I learn better by doing, I dove in head first.This has been the result.
Experience Is Had By Not Having It
Needless to say, learning with MentorMate has been a refreshing experience of which I am beyond happy to be a part of. I have learned that chess victories are not had by attempting to decimate the opponent's supply of pawns and that losing your queen within the first five moves is a formula for defeat. I have learned there is a reason the Backstreet Boys are no longer dominating the Billboard Hot 100 and that revering their past hype doesn't mesh well with defining custom software development. Experience had, experience learned.
The people of MentorMate have also taken this 'learn by doing' approach and it has helped position us as one of mid-America's fastest-growing companies. We are on the verge of out-growing our current office in Minneapolis and are adding more and more projects to our résumé at an impressive rate. We are rapidly expanding our team and are always on the lookout for the best and brightest Minnesota has to offer. Drop us a line if you like a fun work atmosphere, nerdy jokes, and ping pong. It's what we're built from.