Application and System Development
At the core of your company's web or mobile engagement you need talented software engineers developing top-notch software
Whether you plan to launch the latest social, local or mobile application or you want to re-factor/re-engineer your backend systems and integrations, it's difficult to find the right partner. Communication, transparency, quality, timeliness and ownership are just some of the values necessary for a successful relationship.
We utilize an agile methodology to code quickly and efficiently in fixed-length sprints. At the end of each sprint is a quality checkpoint during which your expectations and ideas guide the next sprint. The result? A collaborative development process which maximizes communication and transparency, while adhering to a predetermined timeline, and delivering quality, production-ready code at the end of every sprint.
Application and System Development Services:
Agile (Scrum) Software Development
Flexibility to Respond to User Feedback
Release Management
Quality Assurance
Project Management
Integrated Teams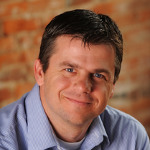 "
The developers are very very good at critical thinking, and sometimes when we think something is right they're willing to actually take it a step further."
Answer a few short questions and one of our representatives will be in touch shortly.