It is pretty rare for developers to reveal how well their projects did. For the most part, the number of downloads and the quality of user reviews is all you get when researching an app. This is a shame because so much is unknown about "making it" in the Appstore. We meet with a lot of indie developers, entrepreneurs, small/medium companies, and even large corporations and they ask us really hard questions like:
"How much is this going to cost?"
"Is this good idea?"
"Will this be successful?"
The answer is almost always "it depends" because every situation is unique and there are so many variables. Thankfully a small percentage of brave developers have been kind enough to share their app's performances. My hope in presenting these five case studies is to reveal just how unpredictable the Appstore can be.
Recently the creators of the smash hit Monument Valley released a tell-all infographic, exposing both the cost and revenue of the game. Let's start there.
Monument Valley
Time/Cost: 14 months, $852,000
Total Sales: $8,858,625
Release Date: April 2014
Price: $2.99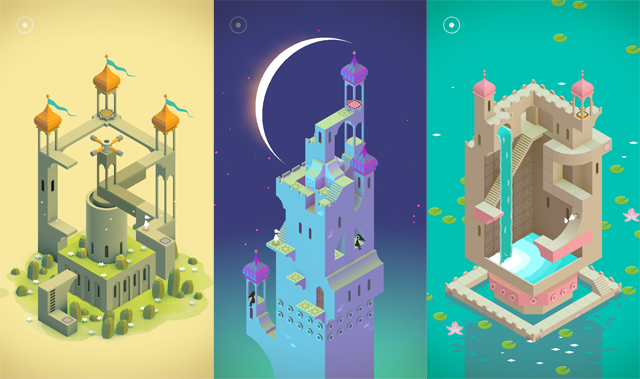 Monument Valley is a critically acclaimed and well received puzzle game. I remember anticipating the release of this game ever since I first saw the amazing art style. The game comes from ustwogames which is a subdivision of ustwo a pretty substantial international digital user interface design company. The game division had a total of three games under their belt before diving into Monument Valley. The development and marketing experience certainly helps.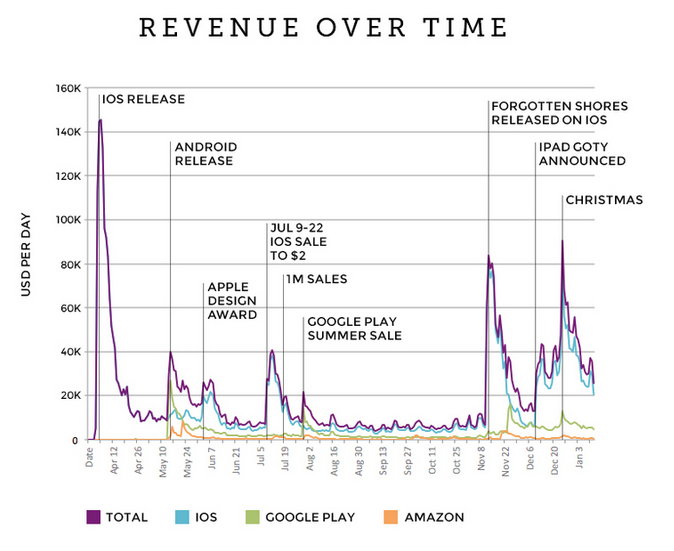 Everything seemed to go as expected for them as Monument Valley was a an absolute smash with excellent excellent music, sound, design, gameplay and length. Further solidifying it's success is how difficult it is to clone or even mimic. That doesn't mean it wasn't a risk however; the game cost nearly a million dollars to make. I wonder how many $1 million games are not seeing this kind of success… I am willing to bet it's a lot.
Unread
Time/Cost: 60-80 hours a week for 7 months.
Total Sales: $42,000
Release Date: February 2014
Price: $2.99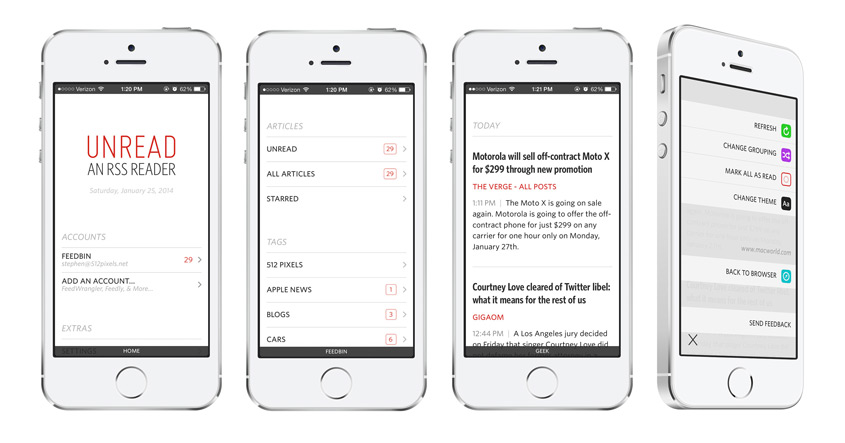 Unread is a premium RSS reader sold for $2.99. The app had a strong opening weekend and it was supported by a multitude of prominent bloggers. Sales quickly started tapering off however, even being featured in the Appstore didn't stop them.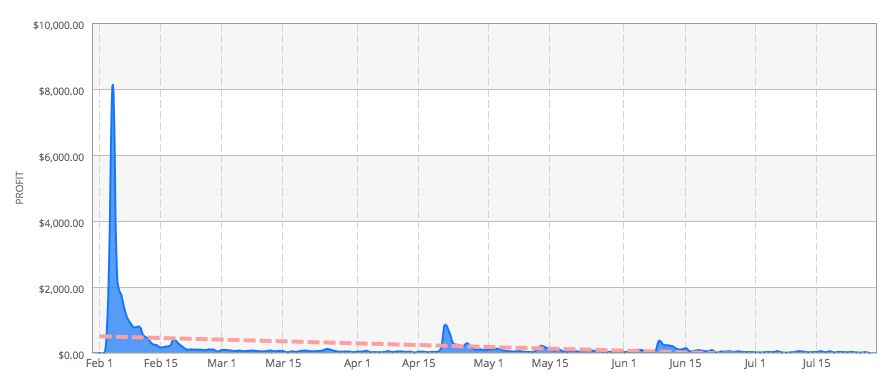 Despite all of these circumstances, Unread still only earned $42K in sales ($21K after taxes and expenses) and is on a course that doesn't promise much growth. I conclude from all this that anyone who wants to make a satisfying living as an independent app developer should seriously consider only building apps based on sustainable revenue models. I suspect this means through consumable in-app purchases, like those in Candy Crush Saga or Clash of Clans, or through recurring subscription charges, like those in WhatsApp.
I have read the reviews of the app and they are very positive both from critics and users. Personally I feel that a $2.99 starting price point (the app is currently free with IAP) is a bit steep for a service which is commonly free in a saturated niche. However despite that, it is very strange that being featured on the Appstore didn't result in a huge amount of sales which will become common as we investigate the other apps in this round-up.
Author Takeaways:
I worked on Unread seven days a week, at almost any hour of the day. I think the quality and polish of Version 1.0 is due to all that extra effort, but it was physically and emotionally taxing. It's not a sustainable way to live, and I don't recommend it.

Sustainable revenue must come from other sources than the original app purchase, either from consumable in-app purchases, or from recurring subscriptions.

Don't launch your paid-up-front app at a reduced price. Demand for your app will likely never be higher again. Price it accordingly.
Overcast
Time/Cost: 15 months full time
Total Sales: $234,477
Release Date: July 2014
Price: Free with $4.99 IAP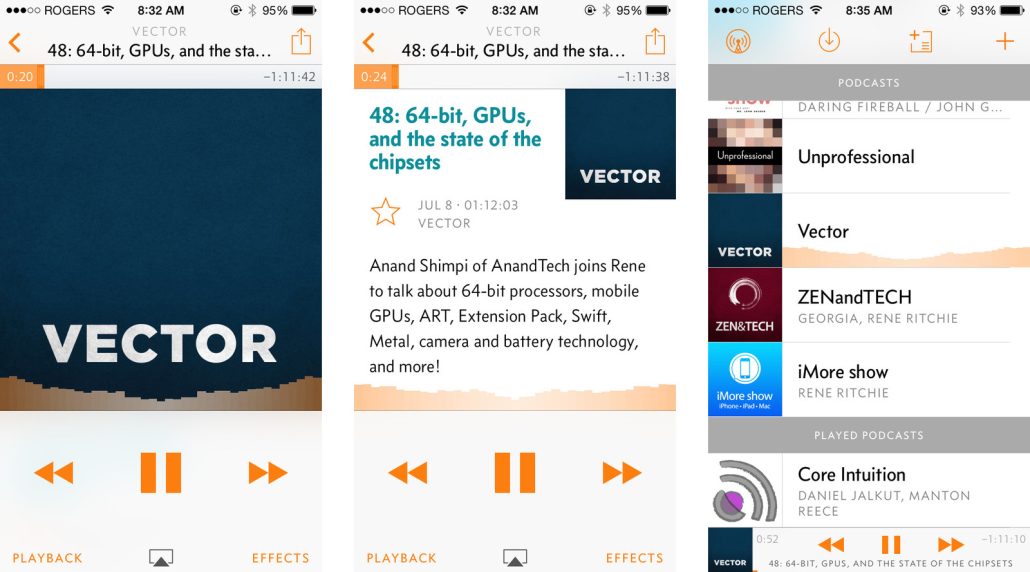 Overcast is a free podcasting app with a $5 IAP to unlock all the premium features. The most notable is Smart Speed which subtly removes pauses from podcasts in hopes to save you time listening. User reviews confirm that Smart Speed is an excellent feature that does save valuable listening time.
Marco claims that his expenses are only about $750 a month and the single biggest cost was spending $12,000 on the trademark for the name Overcast. He does not list any marketing expenses which I find interesting. A late 2014 release of a podcasting app doesn't seem like an organically buzz-worthy event…
It had a perfect launch that far exceeded my expectations — it was the best launch an indie developer could possibly hope for, with tons of great press, a mid-level App Store feature, and thousands of tweets on launch day.
Marco does have a weighty twitter following of 78k users and Overcast was reviewed by Macworld, MacStories and featured on Daring Fireball. It is possible all of this exposure came from Marco's personal relationships but it cannot be underplayed. If Marco wasn't so well-connected, he would have had to buy that exposure and it would have cost upwards of $10,000 to reach even close to that number of users.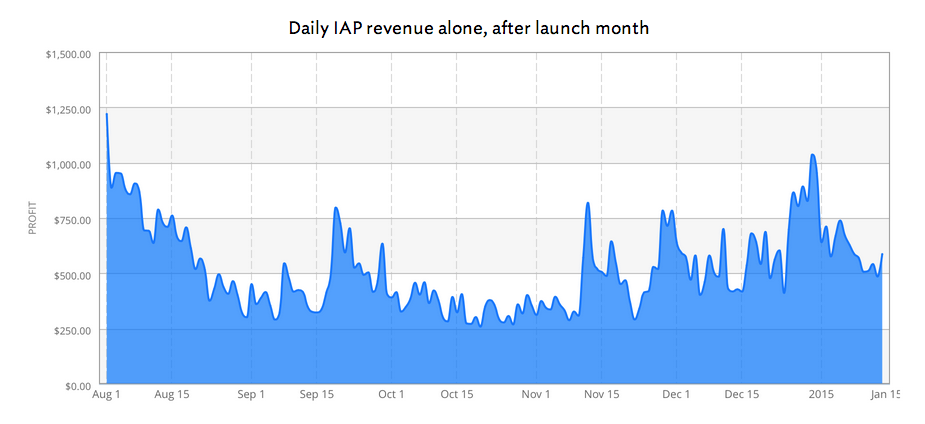 Author Takeaways
Overall, I'm very satisfied with Overcast's finances so far. It's not setting the world on fire, but it's making good money. For most people, the App Store won't be a lottery windfall, but making a decent living is within reach for many.

After the self-employment penalties in taxes and benefits, I'm probably coming in under what I could get at a good full-time job in the city, but I don't have to actually work for someone else on something I don't care about. I can work in my nice home office, drink my fussy coffee, take a nap after lunch if I want to, and be present for my family as my kid grows up. That's my definition of success.
Trainyard
Time/Cost: 7 months part-time development
Total Sales: Undisclosed, but likely over a million dollars.
Release Date: May 2010
Price: $2.99
Trainyard is a puzzle game developed by Matt Rix in his spare time. The puzzle game received limited publicity despite the best efforts of the creator. Submissions to major app review sites such as TouchArcade and SlideToPlay fell on deaf ears and the app was not featured in the Appstore. Trainyard sold 2338 copies in the first 4 months providing $3200 in revenue at $1.99 price point. User reviews were very positive.
Matt increased the price of the game to $2.99 and released a free Trainyard Lite version. The free version was reviewed on a popular Italian blog shooting both the free and paid versions to #1 of the Italian app store. Soon after, Apple featured the paid version of Trainyard in the US Appstore. Sales increased to massive numbers.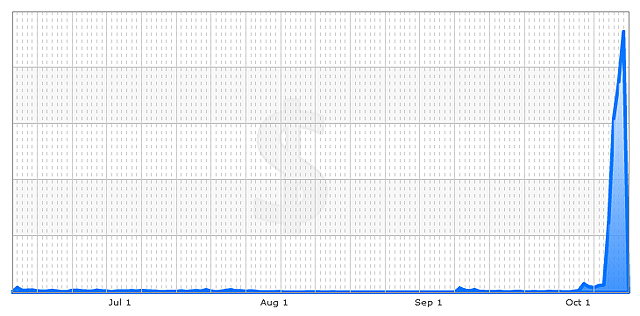 After a calculated gamble to drop the price to .99 Trainyard overtook Angry Birds, taking the #2 spot in the US Appstore for a few days, then #3 for a few more days before dropping off the top ten.
Although Matt didn't expose is exact sales numbers he did publish a breakdown of the value of your Appstore rank based on a $0.99c price point, after the 30% apple royalty fee (as of 2010):
Rank 300 overall – $1000/day
Rank 25 overall – $2500/day
Rank 10 overall – $5000/day
Rank 5 overall – $15000/day
Rank 2 overall – $30000/day
Rank 1 overall – $40-50k/day
Flappy Bird
Time/Cost: 2-3 days
Total Sales: Speculated $1,400,000 ($50k a day for 28 Days)
Release Date: May 2013
Price: Free