Lean UX is a methodology that allows projects teams to involve stakeholders in the user experience and interface design each sprint — not at the end of the process. It's more collaborative, less focused on deliverables and more focused on validating assumptions and gathering feedback before charging onward.
Lean UX provides great potential to cut time and cost for entrepreneurs by removing designers from the deliverables business. The methodology limits the scope of the release thereby enabling teams to make quick pivots and still output a professional product of a defined scale.
1. Seeing Is Believing
Investors buy with their eyes not just their wallets. When understanding how to get funding for an app, visual presentation is everything. It shows investors you've thought through your brand identity and the interactions that comprise your solution. It demonstrates follow-through and commitment. Besides the human fact that people respond well — really well — to visuals.
Studies have also found 65% of the population learns more effectively with visual aids. Visuals have been linked to better information retention in long-term memory, faster message absorption and the ability to create an emotional response that motivates action.
2. Define an MVP
The success of lean UX projects rests on the ability of leaders to limit the scope, otherwise called a minimum viable product (MVP). An MVP is essentially a model of your concept to test the effectiveness of the solution. Your MVP could be sketched in a notebook or built with code. Either way, you're creating a more concrete concept to validate and test with users or stakeholders. Creating an MVP allows your team to solidify the design and experience before investing heavily in development. The MVP can be small or it can be large. Both are less bloated than other methodologies would produce. By keeping budgets and scope small, any business regardless of its size can have a professionally-designed product. Mulder (the character) models this too, tackling one case at a time.
3. Look for Patterns Everywhere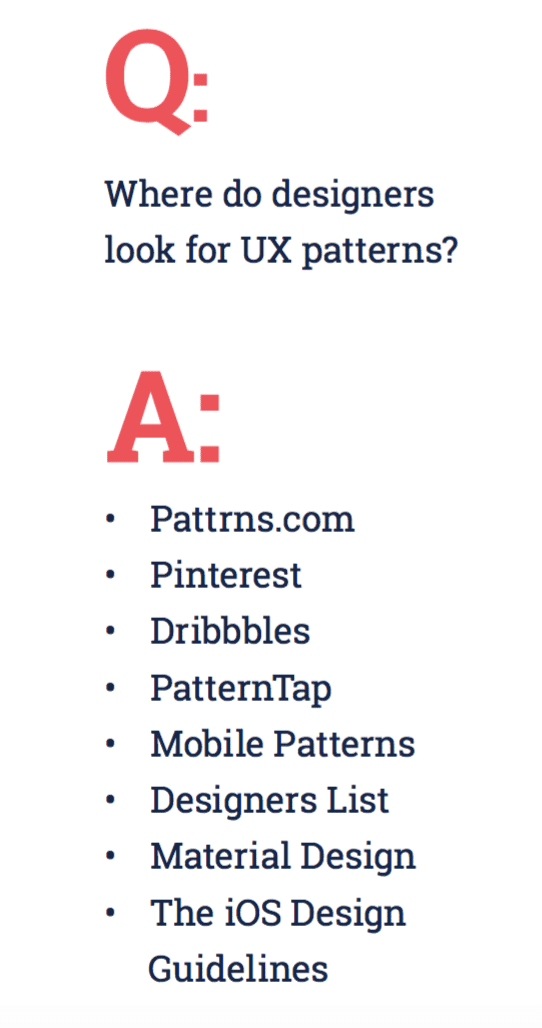 Don't reinvent the wheel if the one you have already turns. Patterns. They're a lean UX designer's best friend. Make sure your team understands the power of leveraging interaction patterns users already understand. Don't needlessly innovate. Instead, focus your innovation to create the cleanest, most intuitive experience possible. So, you choose to take your chances and redesign the back button experience in iOS. What's the worst that can happen? Abandonment. Poor user experience. Not to mention the time wasted implementing it. Enough said.
Since the lean UX methodology places an emphasis on leveraging pre-existing patterns that have stood the test of time, functional software is a core output. Design today is less about inventing a "new way" and more about creating the highest quality experience. School your team on existing lean UX patterns by studying the platform specific guidelines created by Apple and Google.
4. Validate Along the Way
Budgetary considerations (top of mind for entrepreneurs) are one of the core reasons businesses or design teams adopt a lean model. The results translate into rapid mobile app development by putting ideas into the hands of your technology team sooner rather than fully designing a concept only to find out its feasibility of playing nice with existing infrastructure is close to zero. Validating concepts with developers along the way saves time and money.
5. Always Have Proof
Startup owners regularly need to make new ideas tangible with limited time and budget. Investors don't want to sign-on blind. So prove your concept before your pitch. We call this process rapid prototyping. Rapid prototyping can result in a paper, digital or clickable model to demo at the high impact meetings where ideas aren't enough.
6. Perfection Is Boring
Due to its continuously cyclical nature, lean UX takes the perfection out of the design process. Practitioners of lean UX know that regardless of their affinity for particular aspects of the design, it can and should change. Listen to your users and finesse the features where abandonment occurs or are well trafficked each sprint.
7. Gather a Team of Decision-Makers
We recommend using storyboarding to facilitate your discovery process. Gather key perspectives together for example, a designer, a SME, a product manager, a technology owner, a data analyst and a documentarian tasked with noting requirements in real time.
During this exercise, appoint a leader to guide you through a discussion of the following:
Key business challenges and opportunities
Desired features
User interactions
User flows

We prefer to guide clients through this process in (2) four-hour sessions. After this, concepts may be digitized, a development estimate created and the concepts reviewed.
(Storyboarding isn't just for startups. If you are an agency, the storyboarding exercise should be done with members of your client's business development or innovation teams.)
8. Be Efficient
Skinner won't wait all day for assignments to be completed. Your ideas won't wait either. Speed to market is everything for entrepreneurs. So, designer be nimble. Designer be innovative. Lean UX rearranges the time designers spend ideating versus documenting. While it isn't guaranteed to shrink the project timetable (it often does), the methodology lessens the burden on designers to maintain deliverables and frees them to spend more time thinking through real solutions. It's a process predicated on ideation and validation. Lean UX frees designers to be efficient artists rather than production machines.
9. Research Copiously
The X-Files' resident counterculture group (The Lone Gunmen) doubling as Mulder's intelligence arm aren't the only ones who should research. Entrepreneurs must use every reasonable tactic to understand their target audiences. Use these methods to dig a layer (or two) deeper.
Website analytics. Taking a close look at how visitors are moving through your website using techniques like heat mapping can give you clues to the problems users are hoping to solve and how.
Surveys. Surveying is one of the least expensive, hands-off approaches to gain the insight you need to successfully complete Discovery. Simply buy or use an existing list, write the questions, send and analyze.
Subject matter experts. If you can't go straight to the source or talk with your sales force, talk with others one level removed. Professors, academics or journalists also make great subject matter experts.
Empathy mapping. This method involves thinking as the user to determine the context they would use your solution and what they are attempting to accomplish. Though really, this mindset should be assumed throughout the Discovery process.
Final Time-Saving Tip
Use the same designer for UX and UI. This eliminates the need to onboard new team members and allows your designer to be more fully allocated to the project.
We have evolved our process to use aspects of lean UX with all our clients, though it works especially well with startups. That's how we originally created our unique "spin" on the lean UX process — through working with entrepreneurs.