HTML5 Background
Jointly developed by W3C and WHATWG since 2004, HTML5 was created in response to the observation that the HTML and XHTML in common use on the World Wide Web has become a mixture of features introduced by various specifications, along with those introduced by software products such as (various) web browsers.   The ultimate objective being the establishment of more uniform practices as well as to define a single markup language that can be written in either HTML or XHTML.
In this sense,  HTML5 adds many new syntax features to improve inclusion and handling of multimedia and graphic content on the web, new elements are designed to improve the semantic richness of documents and new attributes have been introduced to improve and simplify the semantic expression.  The standards also define the required processing for invalid documents, so that syntax errors will be treated uniformly by all conforming browsers and other user agents. Ancillary benefits promise to increase security, expand storage and offline functionality.
In the end, it's about a smoother, richer, more useful web.
A mobile Era
While proprietary programs like Flash and Silverlight have dominated the past decade of modern desktop oriented website programming, the complexity and resources associated with such programs makes them unattractive on the mobile web. As a result, developers began responding to user demands through a logical workaround: the mobile application.  In this instance, all content, functionality and experience is contained within an app on top of a smartphones or tablet operating system.
The popularity and ubiquity of mobile apps has steadily increased over the years, Apple's iPhone launch in 2007 radically altered the expectations that the public had for the mobile web by choosing to use WebKit, the same system that underpinned its desktop Safari browser. In 2008, Google followed suite by using the same open source browser engine to power Chrome, and handset makers like Nokia, Palm, Samsung and RIM have since incorporated WebKit browsers into their devices. As WebKit secures its place of dominance in mobile web browsing, the appeal of HTML5 becomes all the more attractive, considering current support for the standard ranges between 77% – 96% amongst top browsers: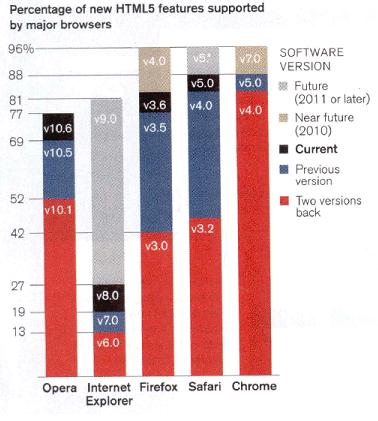 The Convergence
Since many of the nuances have yet to be agreed upon by the collaborating development groups, it's clear that HTML5 will need time to mature and find its stride.  But as the trend for HTML5 browser support shows that compatibility will strive for perfection in the near term (Microsoft's IE notwithstanding), web developers can begin programming with the confidence that HTML5 will come through for the mobile masses.