The Introduction to this series submitted:
Survey Vs. Reality: When building mobile surveys for health care companies we are convinced that there is a huge opportunity for any organization that understands the delta between Survey Response (traditional survey) and Device Gathered Response (Reality, gathered from the mobile device via GPS, Fitbit, spending habits, etc.). Both pieces of information are valuable, but if we craft our surveys appropriately we can begin to understand not just the lies we tell our insurers, but also the lies we tell ourselves.
People have been lying about behavior and health outcomes since the onset of humanity:
Krog to Groka: "You won't get pregnant if you hold this frog during …"
John Candy to Physician: "I work out at least 35 minutes every single day.
Lindsey: "Of course I've been compliant with your recommendations Dr. Feelings …"
When we lie, we almost always lie to benefit our own condition through reward or the avoidance of pain. Krog receives pleasure. John Candy avoids what he perceives to be nagging, possibly shame. Lindsey avoids another stint in rehab. But the cost of our lies is immeasurable when it comes to healthcare, because it is literally difficult to measure, and the consequences are expensive.
Wearable technology can already solve the problem of John Candy and his physician. The wearable initiative (Fitbit, Nike Fuelband, etc) launched by wellness firms is a great example of how to use reality as a survey method. How it works: wellness firms offer discounts on products and services in exchange for a more active lifestyle, tracked and proven by a wearable device. They do this because, people with an active lifestyle cost less in healthcare. Everybody wins when true information is gathered. Let's look at drug abuse and excessive alcohol consumption as another example on the value of truth:
Untreated alcohol problems waste an estimated $184.6 billion dollars per year in health care, business and criminal justice costs, and cause more than 100,000 deaths*
Health care costs related to alcohol abuse are not limited to the user. Children of alcoholics who are admitted to the hospital average 62 percent more hospital days and 29 percent longer stays**
Untreated drug problems waste an estimated $179.3 billion dollars per year in health care, business and criminal justice costs***
When asked to report excessive drinking or alcoholism on a health form people very often lie because they know these behaviors will either get them excluded, punished, or increase their premiums. It is imperative that our caregivers know the truth. Insurers cannot determine accurate rates without correct information. Doctors cannot make correct diagnoses and dole out proper treatment without the correct data, and when they suspect we are lying, they are likely to prescribe a battery of expensive tests to rule out our lies. Merely knowing that an alcoholic is an alcoholic shrinks the universe of potential diagnoses.
In other words, if a patient lies about being an alcoholic and is being seen for problems related to diabetes, the decision tree on diagnosis is shrunk and the treatment options are also limited and can be tailored accordingly. But we're not about to start telling the truth. Or are we?
In 2011 researchers were able to root out lying behavior in farmers who are suspected of poaching leopards using a randomized response technique with dice. In the study, surveyors had responders toss a die (dice) before answering, if they rolled a one they had to respond "yes" to the surveyor's question. A six required a "no" response. The rest of the time the responders were directed to answer honestly. The die was hidden from the person conducting the survey so they never knew the number the farmer was responding to. The results of the survey suggest that 19% of the respondents had killed a leopard in the past year, a criminal offense many farmers admitted to.
This randomized response technique is very repeatable using a two-screen methodology. A survey could be constructed, in which responders use a mobile device which operates in parallel with the survey questions being issued on another device. When shown a questions responders are promoted to activate a die-roll, or other random event, which sometimes dictates how they should answer. Other times they are told to answer truthfully. The responders could be guaranteed that the vendor will not "match" the roll of the die to the response. The confidence of confidentiality and plausible deniability regarding any single response will result in more truthful responses.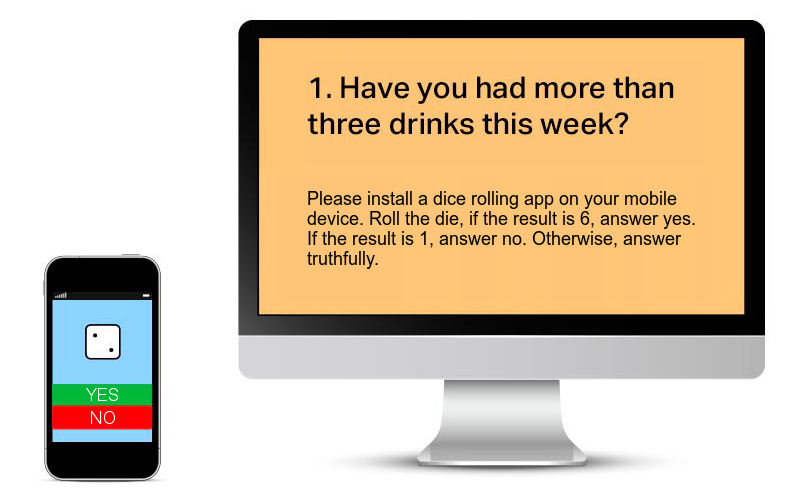 Health care vendors could also look at using technologies similar to SnapChat to create a randomized response where the surveyor could offer a series of ephemeral questions where survey takers cannot be connected to any single response, but are "invited" to tell the truth under the confidence of confidentiality provided by randomized response. The costs of drug and alcohol abuse are well documented but it's been almost impossible to get patients to enter into dialogue with physicians and insurers because of the perceived consequences.
Mobile provides vendors the opportunity to engage anywhere and with new combinations (multi-screen, interactive, wearable) that will facilitate more accurate and cost effective insurance and provider models. The randomized response survey is just one example of a method to root out lying, and it's the most effective method that I'm familiar with to get honest answers to sensitive questions while maintaining confidentiality.
*Harwood, H. Updating Estimates of the Economic Costs of Alcohol Abuse in the United States: Estimates, Update Methods, and Data. Report prepared by The Lewin Group for the National Institute on Alcohol Abuse and Alcoholism, 2000.
**Children of Alcoholics Foundation, Children of Alcoholics in the Medicaid System: Hidden Problems, Hidden Costs, 1990
***U.S. Department of Justice National Drug Intelligence Center: The Economic Impact of Illicit Drug Use on American Society, 2011
Image Source: Unsplash, Fabian Blank