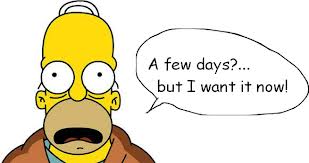 It's no secret how influential the demand for instant gratification has become in today's technology-centric world. A hefty chunk of the internet's success stems from its ability to grant us near instantaneous information. Why do you think search engines are thriving famously? Think about how it works – you enter keywords into a search bar and are showered with hundreds of thousands of results at an astonishing rate, all of them relating to your query in some form or another no matter how odd the search might be. The World Book Encyclopedias are like Rudy without the glory in comparison.
But what if this isn't enough? What if you want to eliminate the extra clutter? How do you significantly enhance your search results?
Those in the SEO (search engine optimization) industry have become intimately familiar with the 'how's and 'why's of search. For the most part, SEOs are very practiced at narrowing down results to find exactly what they are looking for. The SEO industry as a whole encourages healthy amounts of direct interaction with search engines, and rightfully so. Here are a few tricks I've picked up on that help me get the best out of search giant, Google.
---
Search Engine Commands
We have been cordially armed with an armada of nifty search engine commands to slice and dice our search results. These commands help us ween out the unwanted content and understand the seemingly limitless amount of search data. Let's take a look at our munitions:
Use this to show results for all, or part, of a specific domain. You can filter by root domain (mentormate.com), subdomain (video.google.com), top level domain (.com, .gov, .org, .net, etc.), second level domain (.co.uk, .co.nz, etc.), domain + path (mentormate.com/blog), or you can add all of those elements together for an ultra specific, tunnel-vision site search. This might be the search command I use most frequently.
As this query suggests, whatever you type after the colon will prompt the engine to show results ONLY if the keywords are in the title of a given website or page. Ideally, results displayed for this search will pertain directly to your query as the topic or theme of the page should center around the keyword.
This query will limit search results to show only those that contain the searched keywords in the URL. When paired with the site command, this query is more useful (site:mentormate.com inurl:"Ryan Fortune") than by itself.

Quotes around a keyword will yield exact matches. Pretty straightforward. To take it a step further, SEOs can use this trick to check for duplicate content or to check if a web page has been indexed by Google properly. Find a random sentence from a web page's content, simply attach quotes to either side of it, and plug it into the search bar. Assuming the sentence is long enough, it should only return one result – from the page where you got it. If nothing shows up, that means it's not indexed. If it produces more than one result, chances are good you've got duplicate content.
The minus symbol is a good way to filter results. If your search is broad enough, you can eliminate some of the clutter by deploying this right before a word you want to rule out. For example, if you want to search for "fantasy football news", but don't want anything from ESPN or Matthew Berry because their advice has burned you one too many times, your search might look like this:

Cache isn't used like the other commands in that it doesn't necessarily enhance your results. Instead, it displays an exact copy of what Google sees when its Googlebot visits a website. Try clicking the text-only version link in the upper right-hand corner to get a much more accurate depiction of what Google is looking at. This trick is also a good way to find any hidden links on a given page.
While there are certainly more commands that might be handy, these are easily the most used and most worthwhile. There are a number of reasons to deploy these to do your bidding, the most obvious being the ability to craft the results however you see fit. SEOs, in particular, can use these to proof their own sites. Are there misspellings in the titles? How effective is your keyword targeting? Are multiple pages targeting the same keywords? Using combinations of these commands is a great way to dive in deeper with your results.
Onward!
---
Google's Sidebar Action
The only reason this next trick is considered a search trick is because most of us don't know it exists. From the results page, it's clearly labeled 'search tools', however, most of my non tech-savvy friends couldn't tell you where it is or what it does.
Where it is: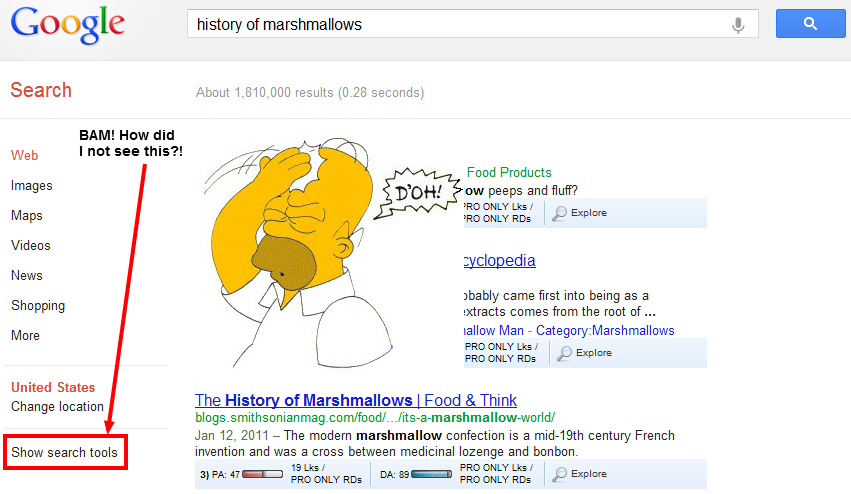 What it does: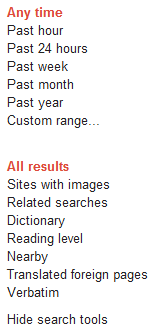 Looking at the image on the right and starting from the top, it's evident you can sort your results based on the time of its creation. As you can see, you can go in pretty much any direction. I find the time categories are especially useful when searching for news related articles. It also helps to remove outdated content such as old blog posts that might have served a purpose circa 2006, but now are utterly useless.
The second half of these search tools let you segment your results using filters that the majority of us would deem worthwhile. Sites with images? Well, I'd like to think most websites have images as it is, but in case you're struggling to find one, Google's got your back. The 'related searches' option is of particular interest to SEOs and online marketers. It suggests refinements of the original search, showcasing a surfeit of related topics for a particular search query. Reviewing these suggestions is certainly a worthy pursuit.
---
One Last Nugget
This is perhaps the greatest trick of all – when you begin typing your search, notice how the search bar expands to display additional search queries? DON'T HIT ENTER. You are being given a treat. Not only does this sometimes make for a good laugh (try typing both variations of "how to get my (boy/girl)friend to"), it gives you a glimpse of the most popular searches given the words you've provided. This a virtual gold mine for SEOs and online marketers.
Want to see who your competitors are?

Possible areas for future growth?

Need ideas for writing?

The data is endless, rich, and rewarding if you know how to tap in properly. Now that you've been tricked out, you're ready to enter battle.
---
Image Source: Unsplash, Louis Blythe