How can brick and mortar stores offer anything more than a showroom before niche goods are consumed online? Retail augmented by iBeacon technology. Not only can consumers find exactly what they want, they can do so on their mobile devices from the comfort of their couches. Stats that indicate the changing trend of consumer tastes are nothing new. Last year Amazon reported as much as 70% of traffic comes from mobile devices.
That said, the forecast for retailers isn't grim — it's just evolving.
Shopping in the Era of Beacon Technology in Retail
Beacons are one of the technologies that may prove to sustain retailers in years to come. Beacons, are low-cost hardware sensors small enough to keep concealed within a store. They are designed to wirelessly communicate through Bluetooth LE (Low Energy) with mobile devices within a specific range. These iBeacon sensors can transmit messages or prompts directly to user devices based on micro-location, a capability that proves especially useful when considering the use case of shoppers perusing or lingering in a particular aisle. Though, Apple with its iBeacon technology is just one of many beacon providers in the space. Others include Kontakt, Estimote, BlueSense and Gelo.
Consumer magazine Elle turned to beacon technology to deliver push notifications to readers/shoppers with the ShopAdvisor or RetailMeNote apps within a given distance from stores offering editors' picks. Beyond personalizing the shopping experience by integrating beacon and mobile technologies, the strategy drove 500,000 retail store visits.
Other Viable Use Cases for iBeacon Technology
Hotels — Some have piloted using beacons to replace hotel keys
Banks — Help manage traffic flow via push directions during busy times
Sports stadiums —Offer seat upgrades
Trade shows — Connect with attendees on the expo floor
Airlines — Offer perks and access to frequent flyer lounges
How Personalizing Consumer Experiences Helps Buyers and Sellers Win
iBeacon technology can do more than disseminate information, it can also gather it. Businesses are increasingly turning to the devices to provide advanced shopper analytics.
Combine location, the mobile moment, beacons, shake, stir and retailers have concocted a recipe to exchange broad, disjointed experiences for highly-tailored, omnipresent ones more about feelings than the products themselves.
Business Insider estimated beacons would help drive $4.1 billion in store sales nationwide in 2015, with that number increasing by tenfold this year. Some of the retailers maximizing beacon technology include Kohl's, Urban Outfitters, Macy's and Lord & Taylor. Research forecasters estimate there could be as many as 400 million beacons in use by 2020. Retails who form a meaningful content strategy around the technology have the potential to reap untold benefits. Rite Aid alone has installed 4,500 beacons in United States' stores.
Deliver Targeted Messages
Context-sensitive offers have proven more successful than offers more aligned with advertising agendas than the shoppers' needs at that given moment in time. Messages can be sent to shoppers based on proximity and location due to micro-location technology. If a user is spending a considerable amount of time in the jeans department, a related offer can be sent to that user.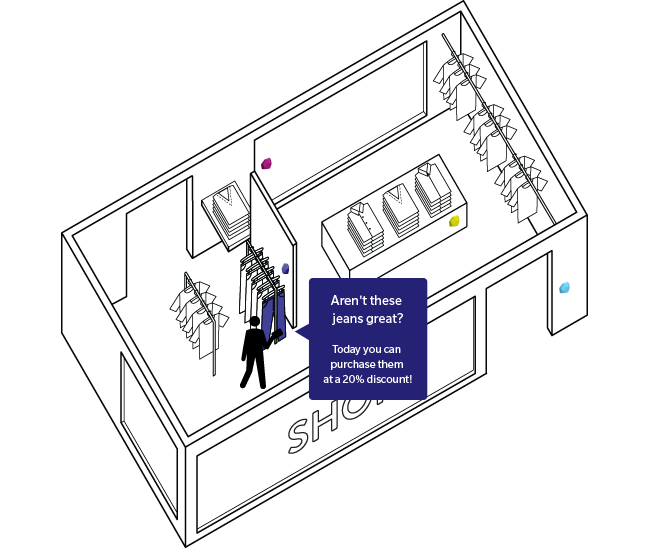 Understand Behavior Patterns
From the instant a user approaches your store, beacons track their movements. Beacon technology can pinpoint location more accurately than other top contenders GPS, Wi-Fi, and NFC. Using geolocation, in-store sensors can collect the sections shoppers are visiting and for how long. Such an in-depth understanding of user behavior can then driven brand decisions, how the retail space is designed and where products are placed.

Integration
Along the way, some beacon vendors have developed beacons with custom parameters to further innovate capabilities. One certified vendor, Estimote, has updated their SDK with temperature and accelerometer sensors. These integrate nicely with the iPhone and offer richer feature capabilities.
Benefits of Beacons in Retail Experiences
Blending of the digital and physical realms
Direct customers to the nearest purchase location
Maintain consumer attention within the retail environment longer
When Do Beacons Invade Consumers Rather Than Assist?
Retailers incorporating iBeacon technology must walk a fine boundary between anticipatory and overwhelming. Brands like Target have instituted guidelines to limit the number of consumer interruptions.
Considerations for Brands:
Identify the end-goal of each interruption, use this to prioritize if some alerts need to be trimmed from the experience.
Use iBeacon technology to deliver value or help consumers discover new elements of the in-store experience.
Integrate beacon technology into your greater customer engagement and retention strategy not as a stand-alone component.
Use beacon technology to offer incentives for loyal shoppers.
Proximity + Technology Make Routine Tasks and Special Occasion Experiences Elastic
Most consumers heavily rely on their smartphones to provide navigation. Some brands are exploring new advertising opportunities linked with urban mobility. Thanks to beacon technology in bus shelters, Xerox can offer mobile offers to transit users through the Shop and Ride app and beacon infrastructure. Thus, users on their way to work can take advantage of proximity-based offers, saving them money when they do venture to pick up groceries.
Museums like the Metropolitan Museum of Art have acknowledged their biggest competitors aren't other museums — rather they are visitors lost to immersive media experiences like Netflix and mobile gaming that allow users to hunt and peck for experiences tailor-made to satisfy niche interests.
Beacons offer users this same agency to chat with curators in real-time, photograph works and further explore related information delivered based on — you guessed it — proximity.
Previous Marketing intern Ryan Blake contributed to research for this article.