In a previous blog post we analyzed the differences between identical searches in Google and Bing; however, we never compared image search results. They are probably pretty similar right?
Actually they are wildly different! Stephen Fluin brought this to my attention. Take a look at a Miley Cyrus image search on Google and Bing.
Google Image Search: Miley Cyrus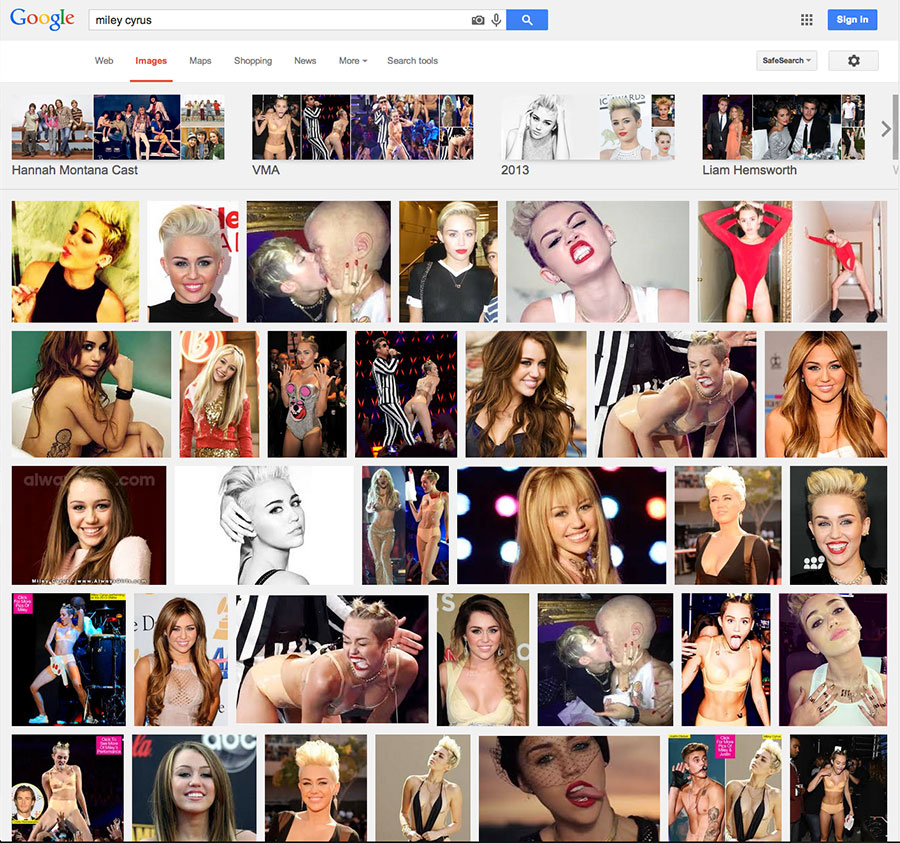 Bing Image Search: Miley Cyrus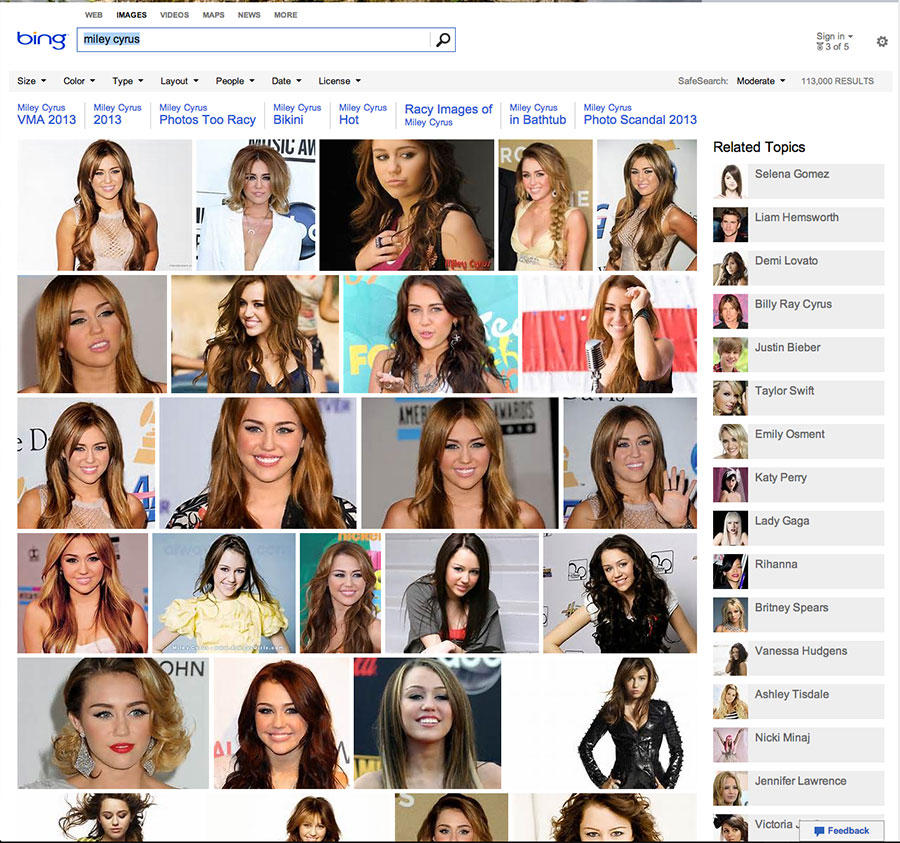 As Stephen delightfully put it:
"Bing is like a loving grandmother who is in complete denial about her granddaughter's behavior."
Bing's image search is completely devoid of Miley's entire 2013 MTV VMA performance. The twerking, the tongue, the short haircut make no appearances. That performance is arguably the biggest splash Miley has ever made and Bing is pretending it didn't happen?
Clearly the image search algorithms employed by Google and Bing are very different. Lets look at another pair of examples and see what we can figure out.
Google Image Search: Lindsay Lohan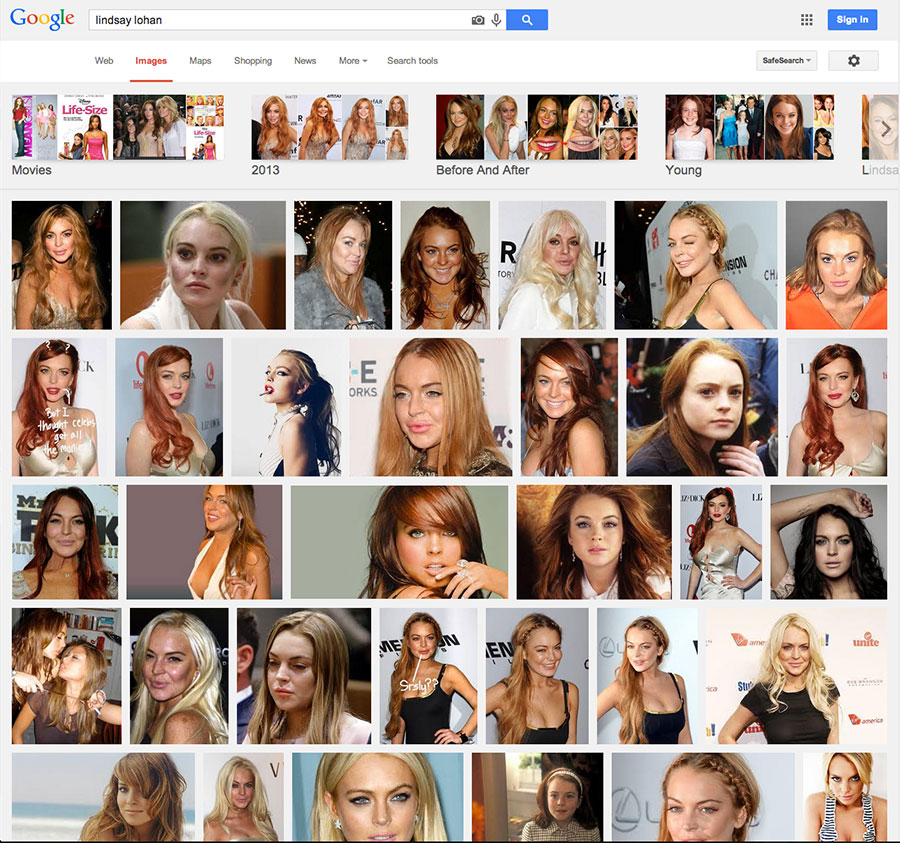 Bing Image Search: Lindsay Lohan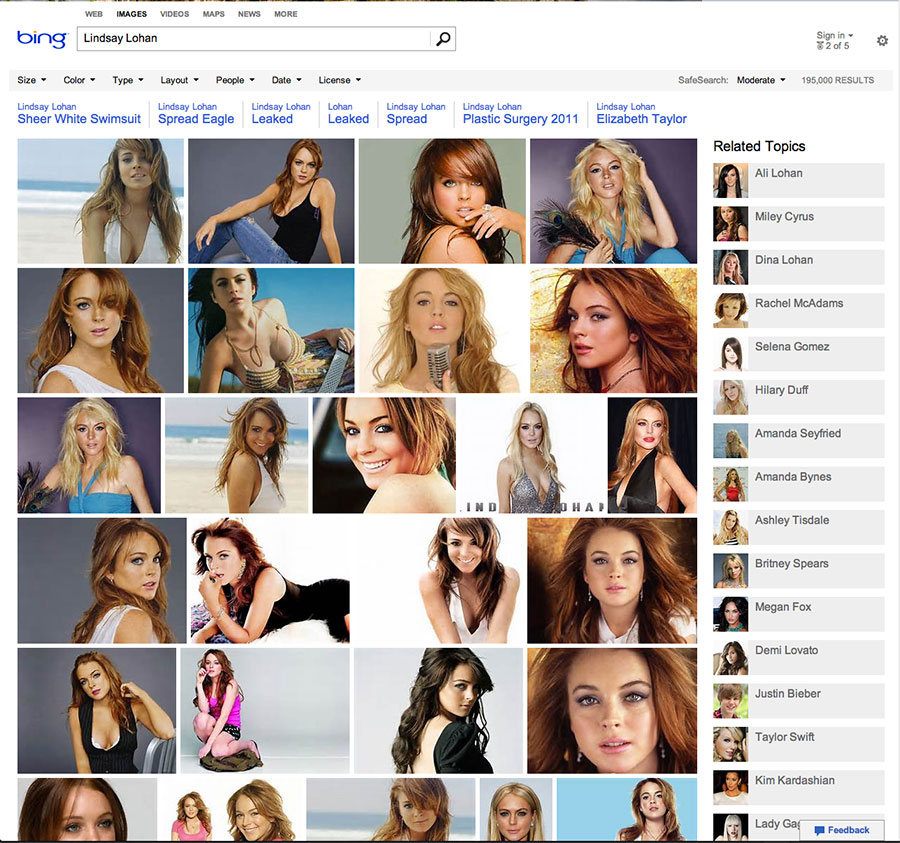 Google Image Search: Amanda Bynes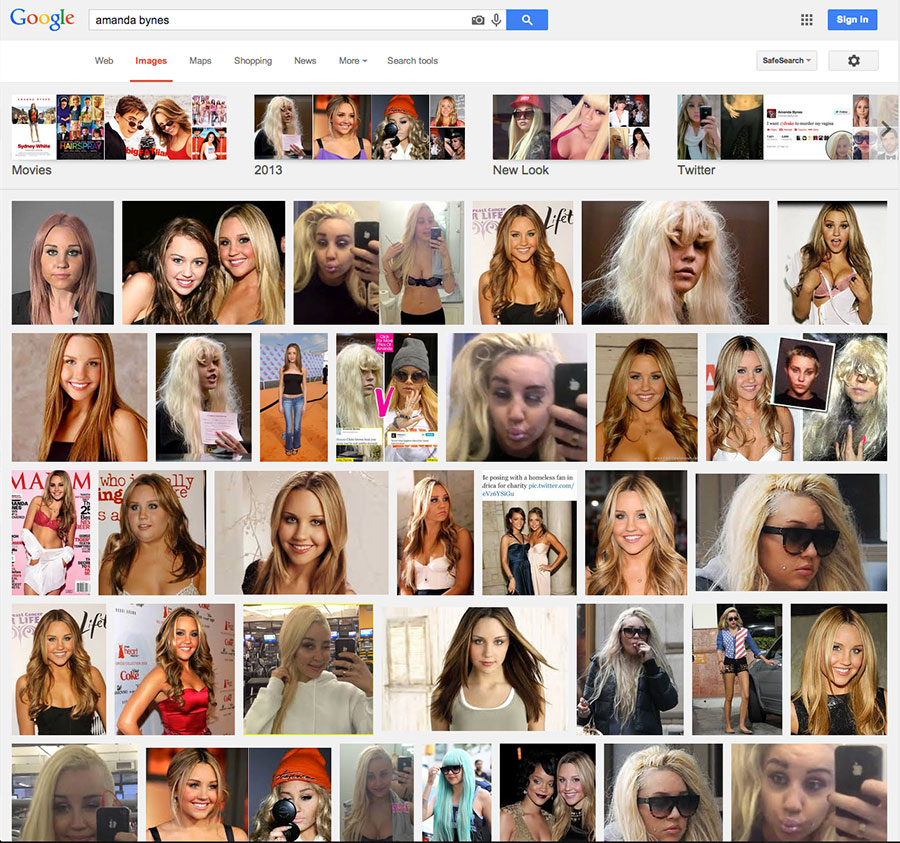 Bing Image Search: Amanda Bynes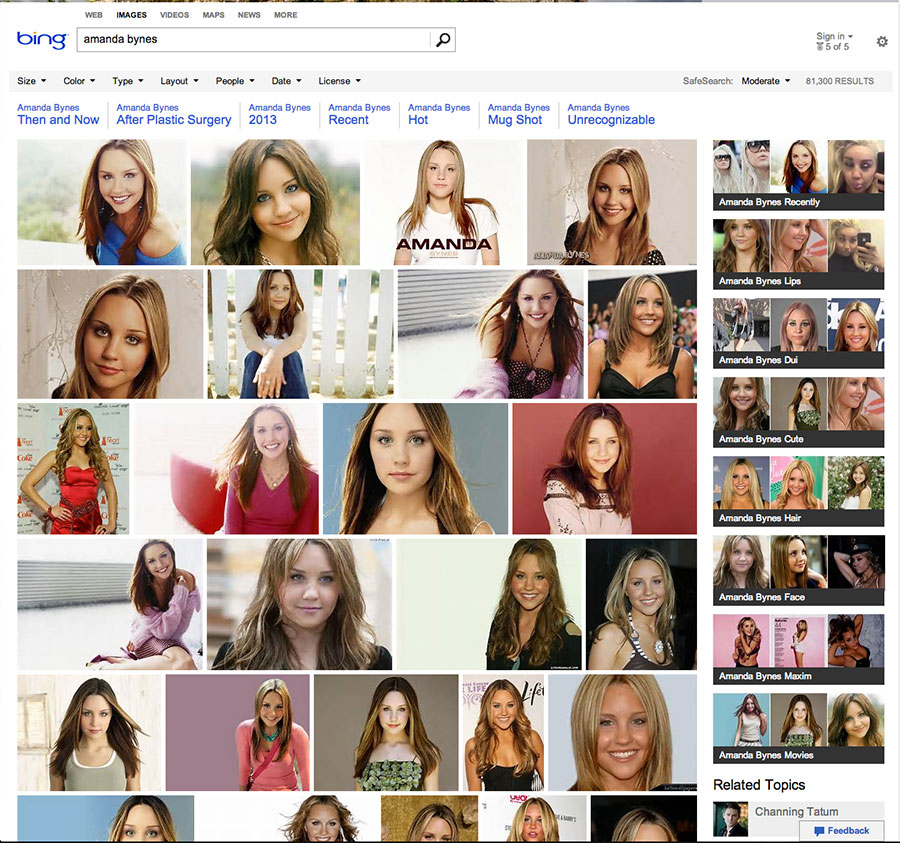 In all of the Bing results not a single "bad" or "negative" photo is shown on any of these three female celebrities. My from-the-hip guess is that Google values social signals higher. Images with a greater amount of social shares appear more frequently and higher than lower scoring photos. Mug shots, or explosive pop culture photos often get shared quickly and appear on many gossip news sites which score large social numbers. Bing might take a more traditional approach and show pictures from highly authoritative websites?
Let's use the example of Lindsay Lohan. Bing's top 10 images from from:
mantoos.com
fanpop.com (two times)
blog.screenweek.it
stud-center.com (four times)
fotoblogx.blogspot.com
iwritealot.com
I don't personally recognize any of these. Following through some of the links, I wouldn't consider these sites reputable. Compare this to the Google's sources:
businessinsider.com (two times)
nydailynews.com
hdwallpapersdj.com (four times)
imdb.com
vogue.fr
perezhilton.com
IMDB, Business Insider, and Vogue? I think most people would agree that these sites are certainly more reputable and authoritative. So what is going on here? I enlisted the help of our Director of Inbound Marketing and search engine wizard Andy Forsberg to provide analysis. First he put together this spreadsheet comparing the top five Miley Cyrus images: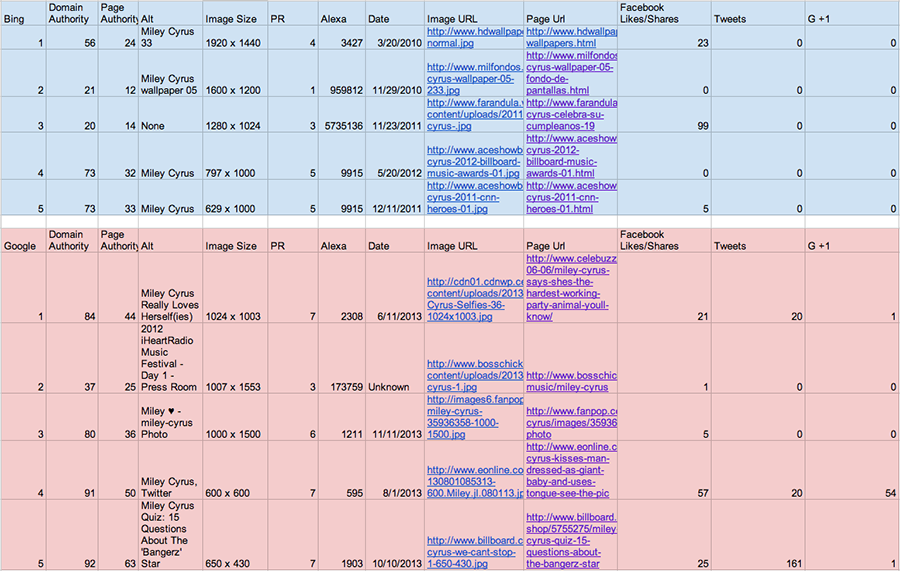 And provides the following analysis:
Bing images search places little to no emphasis on the date or authority of a given website when pulling images for its search results and sorts its images by their resolution (largest photos first). The higher resolution images tend to be professionally taken and are therefore, more likely to be more "appropriate" for a general audience.

Google image search places significant emphasis on the date and the authority of a given website when pulling images for its search results and sorts its images primarily by domain authority, page authority, social sharing metrics & recency. Since the more shocking photos are more likely to be linked to more frequently and shared more frequently on social media channels, they are more likely to show up near the top of Google's image search results.
Clearly the algorithms the two engines use are very different. Of course, analyzing search engine algorithms is more than a full time job. The sample size we used here is not large enough to draw any real conclusions, only for fun speculation. So based on our limited research, which engine is better?
If you are looking for a high quality, beautiful photo of Miley Cyrus to hang over your fireplace, Bing will deliver. Using Google you would likely have to use advances search and set a higher minimum size and do some hunting before getting the perfect picture. If, instead, you keep hearing things about Miley Cyrus and you want to find out what the fuss is all about, Bing will be almost no help. The most recent image it provides is from May 2012. Google is better suited at bringing images from the latest events to the top. It is thought-provoking how the engines attempt to satisfy different needs when faced with a search like "Miley Cyrus" and no additional context. I am now curious how these tendencies manifest themselves when searching for things other than female pop stars…
If you have any other insights, or simply prefer one search to the other let us know!