For designers on an Agile product development team, it can be a struggle to integrate a human-centered design process into a workflow that is already constrained by development sprints. Designers and teams need time for defining, ideating, prototyping, testing and learning in order to ship products that align with end-user expectations. Our latest guide, Sprinting in an Agile World, outlines the basics behind the Agile and Sprint methodologies and discusses how integrating the two makes user-centered products faster and more efficiently.
The guide takes an in-depth look into the hows and whys of fusing design sprints with Agile, but here's a little preview of what you can expect to learn as well as a video lecture on the topic from our recent Elevate Design conference in Sofia, BG.
Introducing Design Sprints
A Design Sprint is a time-constrained, five-phase process that leverages design thinking principles. It was first created and implemented by a small group of designers at Google. The process was eventually adopted by the team at Google Ventures and used extensively to support their portfolio of investments including Slack, Blue Bottle Coffee, and Foundation Medicine among others.
Design Sprints can be used to develop new products or enhance existing ones. Participants should be cross-functional and include representatives from the product, technical, executive, and customer teams. With the right team in place, the Design Sprint process gives product teams the tools they need to streamline decision making and validate product decisions before a large investment or long period of time.
The Design Sprint is broken down into five phases: Map, Sketch, Decide, Prototype, Test. These phases are most commonly implemented across one week of activities with each phase taking up one day of time. However, the actual length of time can be shortened or lengthened (to an extent) in order to align with the team's existing process.
Phase One: Map — While Phase one is the beginning, the team will actually start at the end and identify a long-term goal that they'd like to achieve. They'll gain additional context around the challenge through expert opinions and finish by picking a target; a manageable piece of the problem that they can solve in a short amount of time.
Phase Two: Sketch — Phase two is all about idea generation. From lightning demo's that highlight inspiration, to sketching exercises that involve the entire team, this is the time to focus on solutions.
Phase Three: Decide — The Decide phase is when ideas are narrowed down and decisions start to get made. Designers challenge and critique each of their solutions and decide which of them to prototype and test. Once consensus is reached, the team uses a storyboarding exercise to map out the solution in detail.
Phase Four: Prototype — Phase four is all about "Fake It Till' You Make It". Realistic, mock experiences of the proposed solution are created and refined in preparation for the testing phase. When the prototype is complete, the test script gets written and the test schedule confirmed.
Phase Five: Test — The final phase is reserved for testing the prototype in front of the target audience in order to validate the solution. It's important to test to learn, not to decide. When the interviews are complete, customer feedback and reactions will be enough to help identify the next steps.
Benefits of Design Sprints
Adopting the sprint methodology allows teams to tackle big problems fast. Efficient collaboration mitigates the risks faced in a typical product development cycle. Here are some other ways how the process can benefit the team.
Develop a mutual understanding of the problem and solutions with stakeholders
Occasionally, an executive stakeholder will overrule product decisions on a whim or instinct, which can cause some havoc and undue stress on the team. Having a business representative involved in the sprint means more buy-in thereby mitigating those risky situations.
Brainstorm and ideate without technical constraints
Because there is no technical hurdle or learning curve that needs to be accounted for when sprinting, the team can keep their focus on solutions without worrying about implementation.
Prototype and test ideas early on with minimal investment
Sprinting allows the team to avoid months of development time, saving precious money and resources.
Gain customer feedback and insights before development of the product begins
The Sprint approach puts customers in the center of the process and provides the necessary tools to collect feedback and reactions from the user perspective before a single line of code is written.
Typical Validation vs. Sprint Validation
One of the larger benefits of the Design Sprint method is that it speeds up the validation process. In most cases, validating a product or idea is a four-step process.
To visualize it: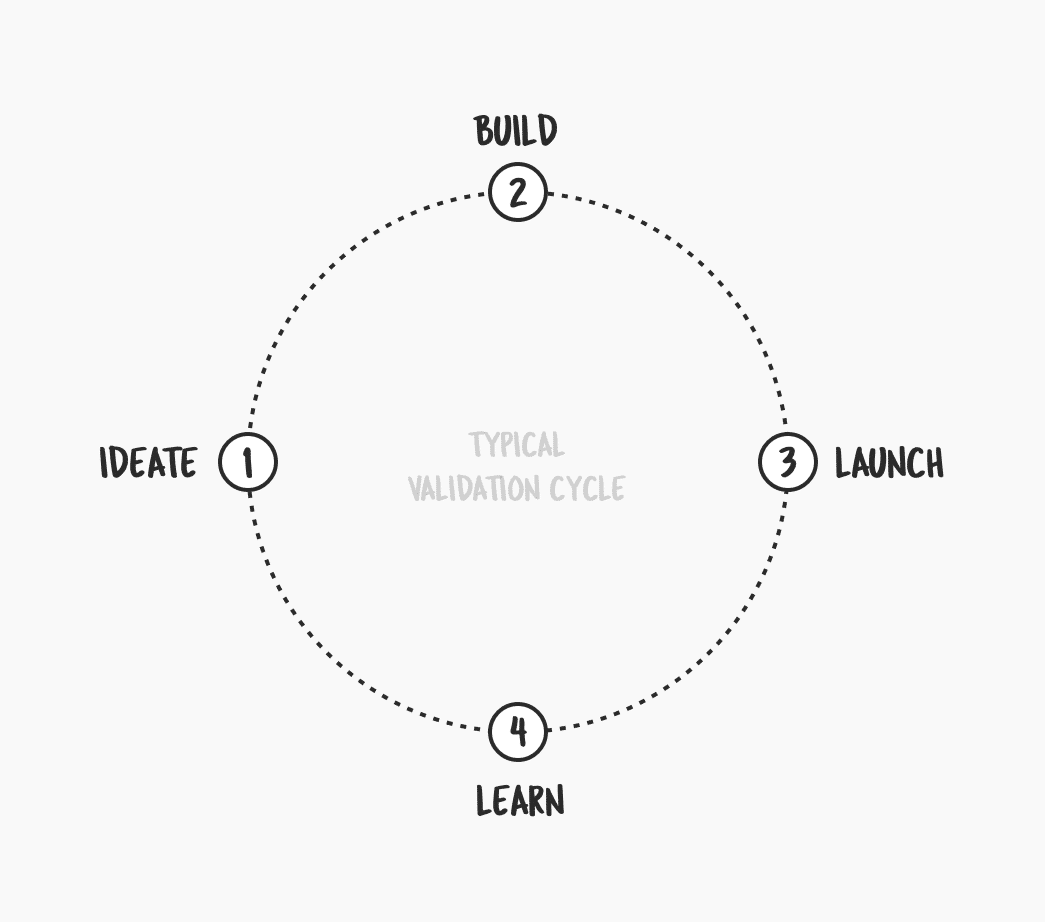 The typical validation cycle ideates, proposes, and designs a solution — in that order. Then, that solution actually gets built. Next, it gets launched and, finally, tested in order to learn and iterate. This process works but it takes an enormous amount of effort and time from product teams.
Using the Sprint methodology allows teams to go directly from Step 1 (Ideate) to Step 4 (Learning), bypassing the build and launch steps.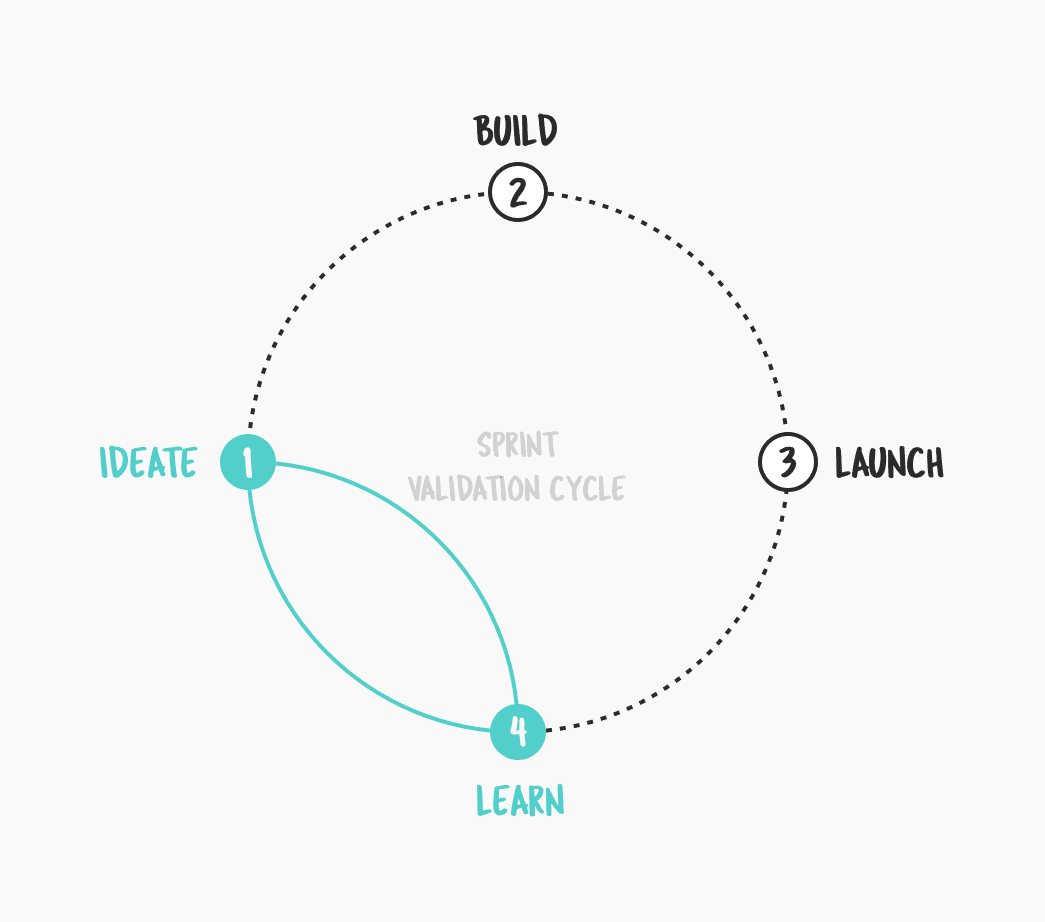 Doing this allows teams to receive and react to customer insights early in the product development cycle. It also saves the business time and money down the line by reducing the risk of design and development debt.
To continue reading and increase your knowledge on the importance of design sprints, check out our guide Sprinting In An Agile World.
Image Source: You X Ventures on Unsplash