We spend about half of our time working with companies in the health care industry. Most of them are looking for ways to engage their customers via a mobile interface. Many of them are proposing a mobile strategy based on the assumptions of the current risk models put in place by health insurance providers. All of them need to build an app that will stand out among nearly 100,000 currently available healthcare apps. If a company truly wants to stand out they will need to challenge the assumptions of current risk models.
We try to ask every healthcare company we meet with, regarding their mobile strategy, the following question: "Is there unique information that we could gather from a mobile device that would help your insurance partners with their differentiation in the market?". That is the opportunity. Let's take a look at the current healthcare system.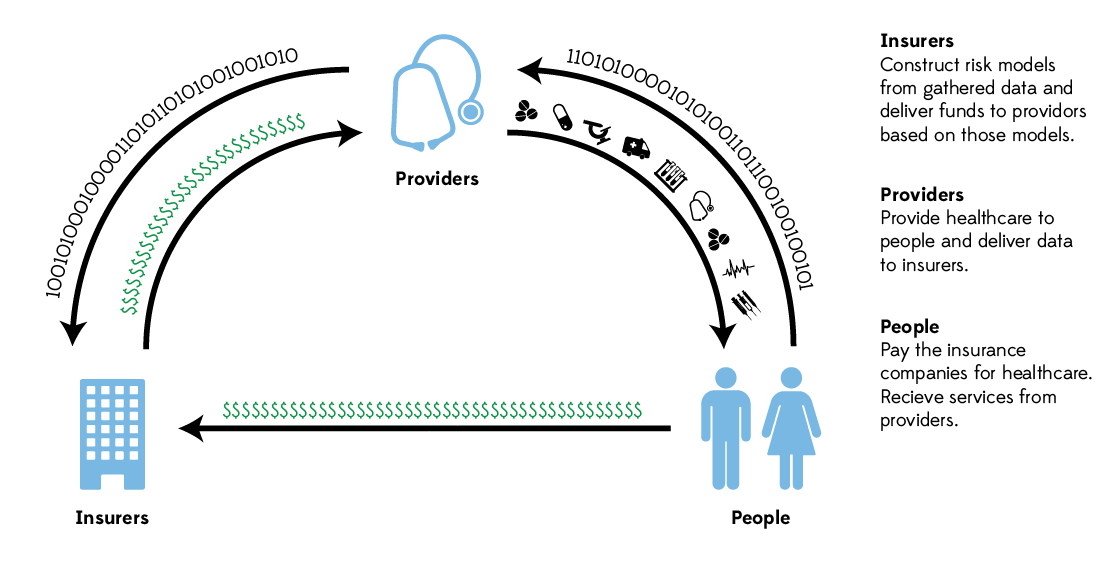 Actuarial data is often based on a small and outdated set of variables.
Do you smoke?
Are you married?
Is there a history of diabetes in your family?
These are important questions, but today we have the ability to go so much further. We have the data and the devices necessary to answer questions that are as complicated as:
What reinforcement models are most successful at increasing insulin compliance for a 28 year old college graduate that passes a Dunkin Donuts and an LA Fitness 10 times a week?
Why is now the time to act? Partially because the technology is here, and it isn't being utilized, but the major compelling event is The Affordable Care Act. A huge influx of new insured people is an opportunity for insurers to retool their current risk models with more detailed data. It's also an opportunity for the companies that partner with the health insurance agencies to bring some unexpected value and become more strategic as partners.
As more data is accumulated, more relevant services can be provided and healthcare costs can be reduced.
The following five constructs can assist with bringing change to the current risk models and provide value for the insurers and partners that implement them properly. We will address each one of them in greater detail in five forthcoming entries:
Survey Vs. Reality: When building mobile surveys for health care companies we are convinced that there is a huge opportunity for any organization that understands the delta between Survey Response (traditional survey) and Device Gathered Response (Reality, gathered from the mobile device via GPS, Fitbit, spending habits, etc.). Both pieces of information are valuable, but if we craft our surveys appropriately we can begin to understand not just the lies we tell our insurers, but also the lies we tell ourselves.
Does the outcome based measure you are trying to achieve via mobile (med compliance, exercise) align with the current Risk Adjustment Programs offered by the insurance provider and are there new data points we can collect to improve those Risk Adjustment Programs? Is there anything unique about the data you are gathering?
Can your mobile app or initiative reduce upcoding for risk adjustment payments? (Is there information we can gather that will reduce the practice of upcoding a case in the most severe category the treatment will allow?) Policing the providers requires a carefully thought-out reinforcement schedule for the providers.
Is the reinforcement model aligned to the outcome? This is an obvious but it often overlooked element in the development of a mobile strategy. As a community, most of us understand the need to develop a UI that is suited to our users, and gamification, but the lifestyle changes that many healthcare apps demand are difficult without well-aligned reinforcement.
Is your measurement valid? This is a systemic problem in the healthcare ecosystem and the insurance companies are the most guilty of confusing a reliable tautology with validity. As a strategic partner it's critical that your targeted area of impact in the Risk Model be valid.
We look forward to expanding each of these ideas in the coming weeks and would love some feedback or additional ideas.