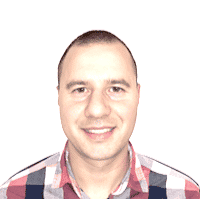 Dimitar Mihaylov
Senior Experience Designer
Sr. Experience Designer, Empathic Creative, & Traveler
Dimitar's fascination with design started in high school and has burned brightly through as he earned his master's degree in Graphic design. These days he works with MentorMate's Experience Design team, crafting the UX/UI experiences for clients' mobile and web solutions.
Dimitar combines emotion, analytical thinking, and hard work to forge navigable paths and positive outcomes for end users. With experience designing for an advertising firm and an e-commerce business in Bulgaria, Dimitar has been perfecting his art for years.
When he isn't busy simplifying user experiences alongside his twin brother, Eddy, Dimitar loves to travel, watch movies, and stay active.
Entries by

Dimitar Mihaylov
Design
What happens to product teams that lack a knowledge of UI and UX terms? Miscommunications during discovery sessions could arise…
Design
What do businesses miss without considering UI accessibility? There's a chance that the latest design trend could also a turnoff…